Hi Friends
Last week, I have written about Part 1 of our 3-part series. Now it's our 2nd instalment.
Here are 5 more.
1. SIR RICHARD BRANSON
This man needs no introduction. But there are a few things that you may not know about Branson:
(i) He suffered from Dyslexia – Wikipedia defines Dyslexia as someone who is "characterized by difficulty with learning to read fluently and with accurate comprehension despite normal intelligence"
(ii) He cried when he had 1 more billion dollars – I would probably be slapping myself to make sure that it wasn't a dream but Branson cried. Why? At the 40th celebration of Virgin Records, Branson sold the record label more than 20 years ago for $1 billion. He cried because he felt as though he was selling his baby for money. "Of course, it was very hard – it's like selling your children," Branson said in an interview with Reuters. "I mean, you build something from scratch, we had just signed Janet Jackson, we had just signed the Rolling Stones when we sold it, and I remember running down Ladbroke Grove, tears streaming down my face with the check for a billion dollars." Subsequently years after, he used the money to build one of the world's commercial space travel company called Virgin Galactic making space travel a reality for me and you (provided you have US$250,000 to spare to buy 1 ticket). "We wouldn't be building spaceships today if it hadn't been for that (sale) so it was the right decision," Branson told Reuters.
(iii) Virgin Airline started on a Blackboard – During a conference in August 2013, Branson recounted how he started Virgin Airline:
"I was in my late twenties, so I had a business, but nobody knew who I was at the time. I was headed to the Virgin Islands and I had a very pretty girl waiting for me, so I was determined to get there on time. At the airport, my final flight to the Virgin Islands was cancelled because of maintenance or something. It was the last flight out that night. I thought this was ridiculous, so I went and chartered a private airplane to take me to the Virgin Islands, which I did not have the money to do. Then, I picked up a small blackboard, wrote "Virgin Airlines. $29." on it, and went over to the group of people who had been on the flight that was cancelled. I sold tickets for the rest of the seats on the plane, used their money to pay for the chartered plane, and we all went to the Virgin Islands that night.
Now you know the size of Branson's mindset.
So what have I learnt from Branson?
Belief to Embrace: "Dream big by setting yourself seemingly impossible challenges. You will then have to catch up with them" ~ Sir Richard Branson.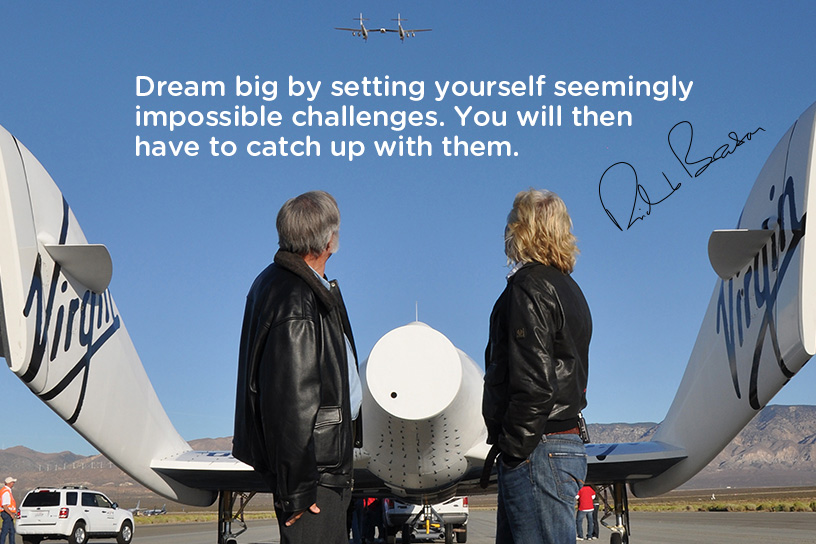 2) ELON MUSK
Who is this man any way? I have first heard about this guy (how dare I use the phrase "this guy") when I attended a workshop in KL. I did some research and I found this guy absolutely amazing. Can you believe that he wants to put man onto Mars? Elon Musk is an engineer and entrepreneur who had co-founded PayPal and currently drives strategy, development and design at two companies he created, Space Exploration Technologies (SpaceX) and Tesla Motors, and oversees a third company, SolarCity, which he co-founded. He led SpaceX's efforts to be the first private company to successfully launch and dock a spacecraft with the international space station.
Please watch this video below to really really know who is Elon Musk.
I have always heard people talking about "Thinking Big" but what's really "Thinking Big". I got to realized what "Thinking Big" was when I saw this quote by Elon Musk: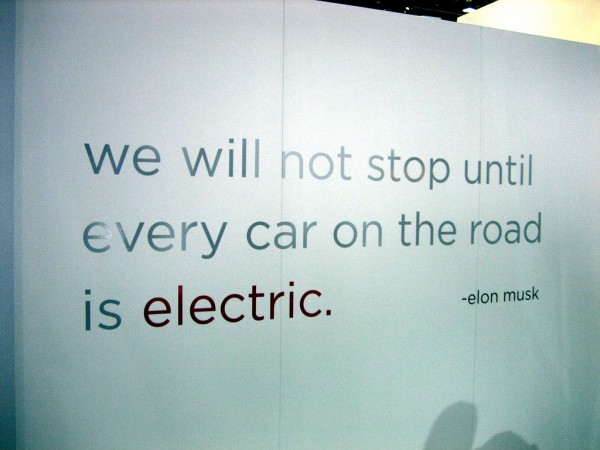 Belief to Embrace: "The first step is to establish that something is possible; then probability will occur." ~ Elon Musk.
3. ESTEE LAUDER (1908 – 2004)
If you are a lady reading this post, you would have heard this name which is synonymous with cosmetics. The company began in 1946 when Joseph Lauder and his wife Estée Lauder (Josephine Esther Mentzer) began producing cosmetics in New York City. She has been known to love her company so much that she wants to do everything herself. Starting from skin creams created by her chemist uncle, she sold  them at beauty shops and resorts until the establishment of their first department store account with Sakd Fith Avenue in New York. Estée Lauder's Clinique brand became the first women's cosmetic company to introduce a second line for men when, in 1976, they began a separate line called "Skin Supplies for Men", which continues to be sold at Clinique counters worldwide.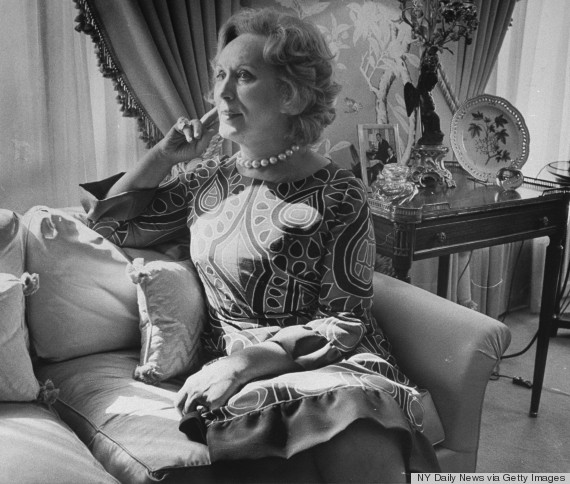 Beliefs to Embrace: "I didn't get there by wishing for it or hoping for it, but by working for it." ~ Estée Lauder
4. Milton Hershey (1857 – 1945)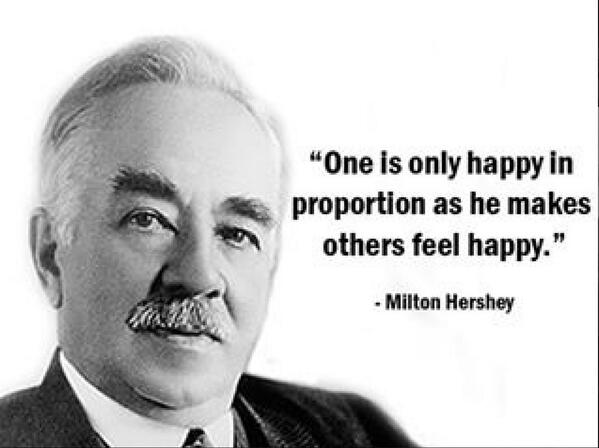 At the age of 14, Hershey, who had dropped out of school the year before, expressed an interest in candy making and began apprenticing with a master confectioner in Lancaster, Pennsylvania. Four years later, Hershey borrowed $150 from his aunt and set up his own candy shop in the heart of Philadelphia. Despite working hard for 5 years, unfortunately, things did not work out. He has to closed his shop and he went to Denver to search for his dad. It's also in Denver that he work with a confectioner and he discovered caramel and how fresh milk could be used to make it. But he wasn't happy to work for someone. He decided to gave it another shot again in Chicago and later in New York City, but both venture failed. In 1883, he returned to Lancaster and, still convinced he could build a successful candy company, started the Lancaster Caramel Company. He later started Hershey Chocolate Company. Fast forward, Hershey's winning ideas included the Hershey Kiss in 1907, which the company's founder named himself. The trademark foil wrapper was added in 1924.
I love his story. Watch Part 1 of this story here:
You can watch the rest of his documentary in YouTube by searching for his name.
I love one of his quotes to know how philanthropic he was:
Beliefs to Embrace: "If I ever become rich, I am going to use my money to build schools to give every boy and girl an opportunity to get an education."  ~ Milton Hershey
5. Levi Strauss (1829 – 1902)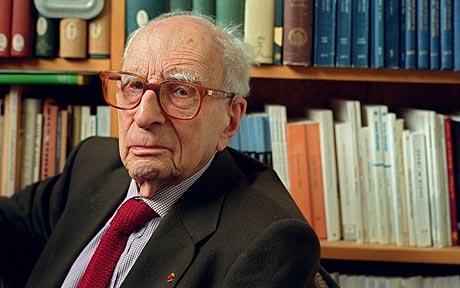 Yes, the above man is the Founder of Levi's. He may not looked as cool as Levi's jeans but he sure is a man that you can learn a lot from.
In 1853, the California gold rush was in full swing, and everyday items were in short supply. Levi Strauss, a 24-year-old German immigrant, left for San Francisco with a small supply of dry goods. After his arrival, a prospector wanted to know what Mr. Levi Strauss was selling. When Strauss told him he had rough canvas to use for tents and wagon covers, the prospector said, "You should have brought pants!," saying he couldn't find a pair of pants strong enough to last.
Levi Strauss eventually use the canvas and made them into waist overalls. But the miners complained that they tended to chafe. Levi Strauss then replaced a twilled cotton cloth from France called "serge de Nimes." The fabric later became known as denim and the pants were nicknamed blue jeans. In 1873, Levi Strauss & Company began using the pocket stitch design. Levi Strauss and a Reno Nevada-based Latvian tailor by the name of Jacob Davis co-patented the process of putting rivets in pants for strength. On May 20, 1873, they received a patent. This date is now considered the official birthday of "blue jeans."
This is the story of Levi Strauss:

Belief to Embrace: "The scientist is not a person who gives the right answers, he's one who asks the right questions." ~ Levi Strauss.
Every time I write something, I have learnt something. What have you learnt today?
To CHAT with me and know more about how NLP can transform your life and others around you? CLICK on this link – Free NLP Workshop.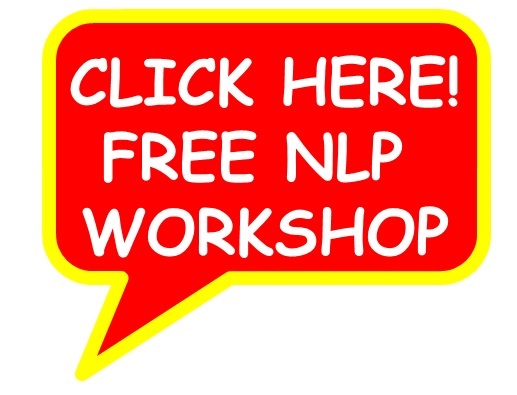 Cayden Chang Founder & Director,
Mind Kinesis Management International & Mind Kinesis Investments Pte Ltd
BSc(Hons), MSc
Lifelong Learner Award 2008 Honouree