I'd like to share with you my own personal success story with NLP (Neuro-linguistic Programming).
It's good to wonder and it actually works because I have personally transformed myself from an academic underachiever to a top corporate high flyer to a business owner (doing what I love) with a national award called Lifelong Learner Award 2008 awarded to me by the Singapore Minister of Manpower (Mr Gan Kim Yong) and the award was authorized by WDA (Singapore Workforce Development Agency), SPRING Singapore, NTUC (National Trade Union Congress) and Mediacorp Singapore (see picture below).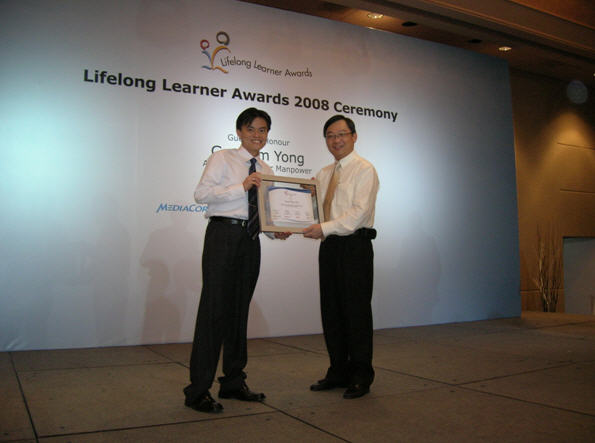 I was also being featured on TODAY newspaper on 25th Nov 2008 (see below) as well as …….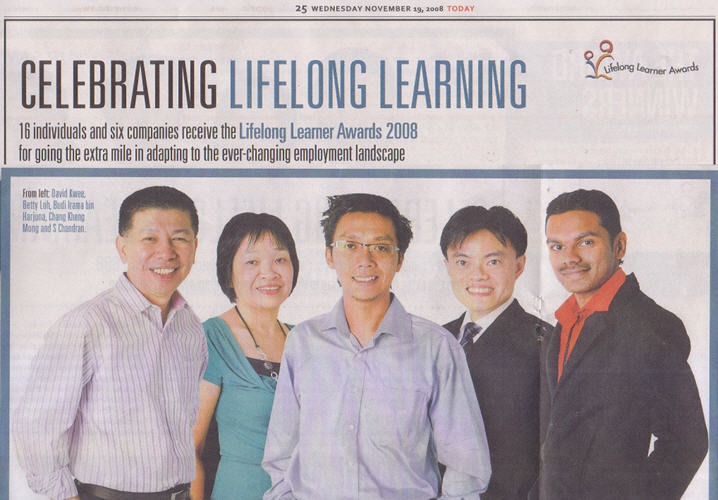 ….Singapore's Radio Station 938 Live (see below):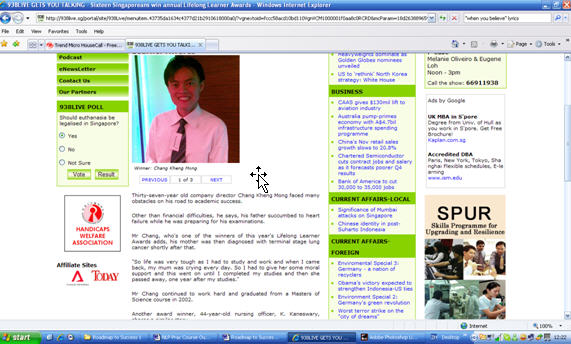 I was a video game addict when I was in Junior College. I was so addicted to it that it costs me my future. I did so bad during my 'A' Levels examination that I have to re-sit for 3 times. I was branded an academic failure and my self-esteem was extremely low thinking that it's got to do with my low IQ.
But my life changed when I first met with the revolutionary success technology called Neuro-linguistic Programming (NLP) when I was reading some books on the topic. By applying what I have learnt, I got into National University of Singapore (NUS). During that era, only 1 out of 10 Singaporeans can get into a local university. To think that life would be better after I got into NUS, it was not. It was a real test of my commitment and perseverance. Without any money to study, I had to work and study at the same time. With classes starting as early as 9am, it ended at 5pm on most days. I had to rush to my workplace by 7pm and work till 10:30pm daily. By the time I got home, it was already 11:30pm. There was hardly any time for my studies, rest, leisure or friends. Even worse, my father succumbed to heart failure a week before my 3rd year examination. It was so sudden and painful.
With the help from NLP, I was able to stay motivated, positive and managed my emotions while continuing to cope with the loss of my father, study and work at the same time. I subsequently graduated with 3 degrees – a Bachelor of Science (Merit) in Biology, a Bachelor of Science (Honours) in Zoology and a Master of Science (e-Business) from the National University of Singapore.
My mum's key wish was to see me make her proud by being the 1st university graduate in the family. I did just that when I had my Bachelor of Science degree. She was so proud of me that on our way back after graduation in a taxi, she was holding my mortar cap tightly in her arms with a gentle and warm smile on her face. But she did not get to see my second and degree graduation as she passed away later a year later with lung cancer. With the loss of my mum, I was able to manage my emotions, stay positive in life using the power of NLP.
Having been working in the corporate world for many years, I was consistently ranked in the top 5% where I manage millions of dollars of operation and more than two thousand over staffs. I have achieved this feat because I have used my knowledge of NLP and model after successful corporate high flyers.
I have also co-founded an award-winning educational board game (MOE Innergy award 2003) which was featured in Channel 8, Channel U, Kids Central and LianHeZaoBao. With a strong passion about learning and inspiring other to learn, I gave up my high paying job and set up my current training company. Using the knowledge that I have acquired, I created a success framework, combined it with the cutting edge of NLP and founded Mind Kinesis Management International LLP offering a series of NLP-based life-skill training programmes for adults and children.
I believe in living life above the line and my purpose in life is "To motivate and empower people to reach their destiny". Have you found yours?
Let me share with you how by attending our Free NLP Workshop NOW!

Cayden
Founder & Director
BSc(Hons), MSc
Lifelong Learner Award Winner 2008
Licensed NLP Trainer
——-
Master Neuro-linguistic Programming (NLP) in Singapore
Your Journey to Success Starts with NLP Singapore Blog