Dear Friends
Having being a speaker myself for so many years speaking to more than 40,000 people around Asia, I have some favourite questions in which I love to ask the participants to make an important point. Let us play this activity.
I want you to look at the picture of the boy shown below and ask yourself the following questions:
1. What is something special about this boy? (List 1)
2. What are the things that this boy can't do? (List as many as possible)
3. If this boy can't do those things that you have mentioned, what will be the life that this boy going to have? A good life or a bad life?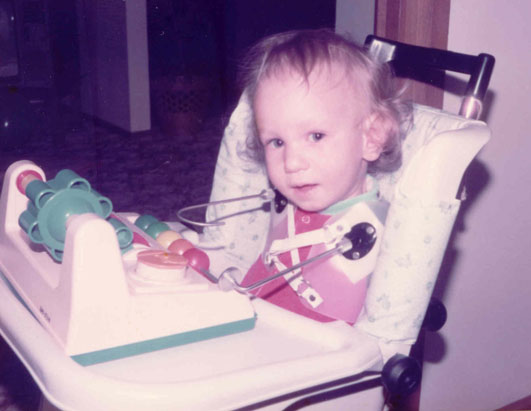 From my experience, close to 100% of the participants that I have trained will say that this boy is going to have a bad life in the future. Let me show you how he looks like right now. By the way, I did not tamper this photo with any photo editing software. This young man really have no arms and legs.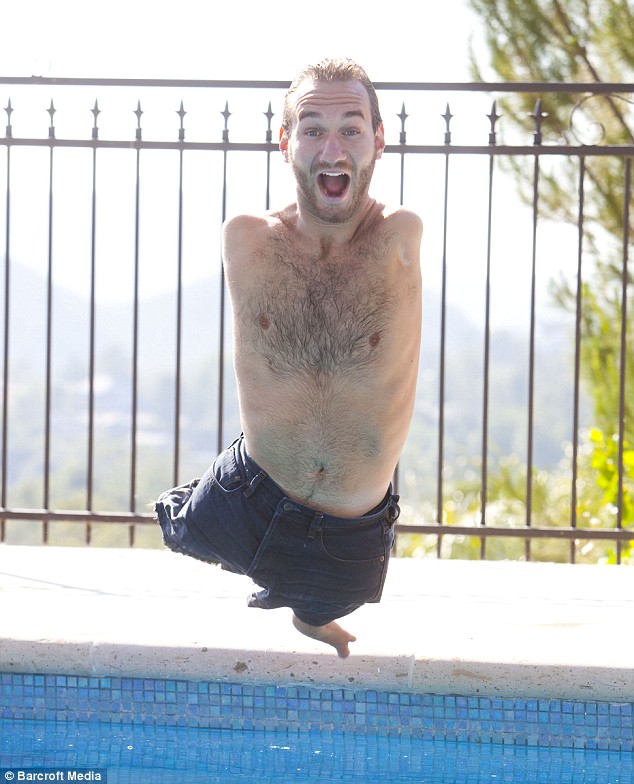 Some of you may have seen him on TV or on the Internet. His name is Nick Vuijicic. The first time I met him face to face was during this year's motivational event called National Achievers Congress 2014 where I happened to be the speaker and I had a brief encounter with Nick.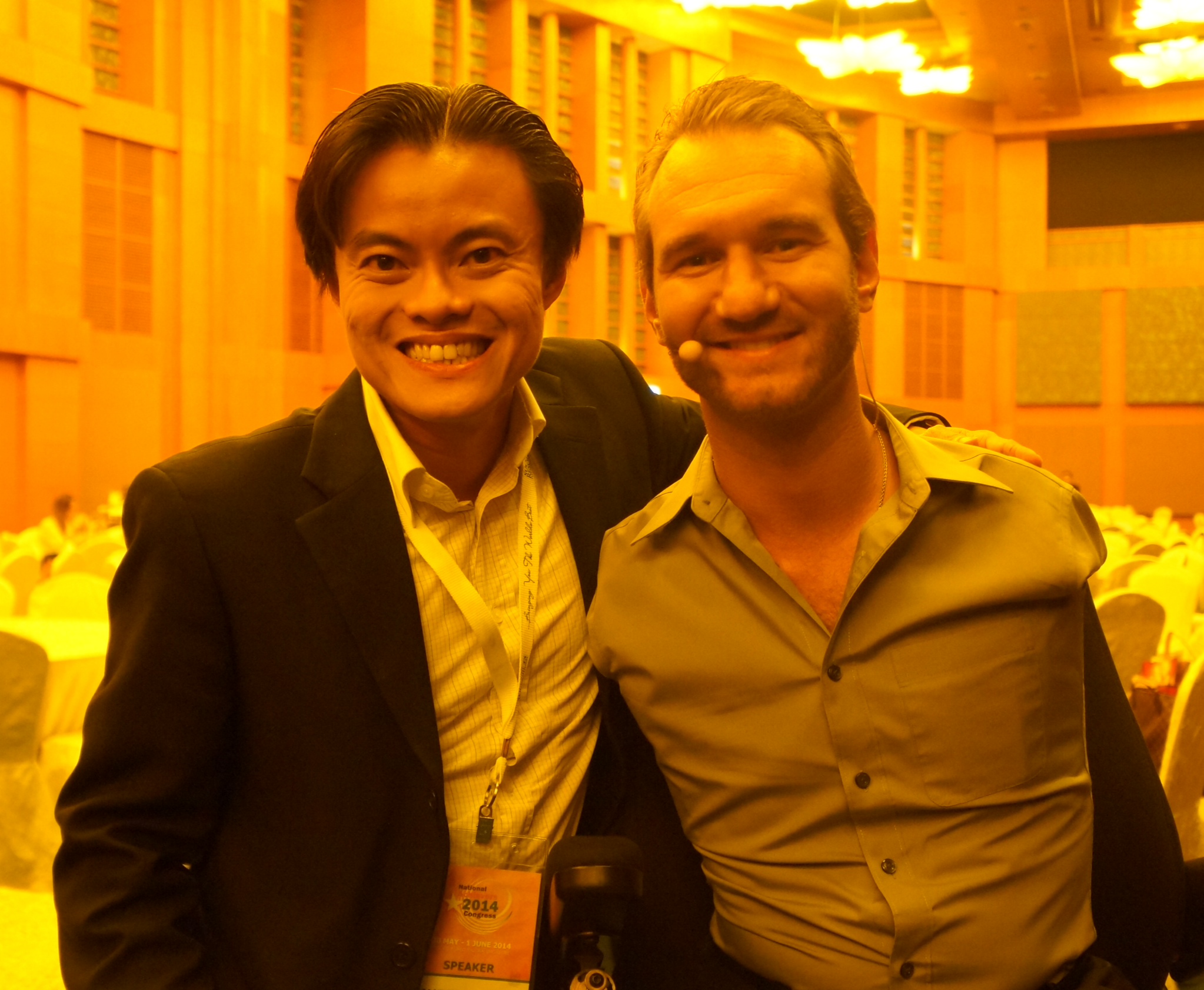 Through one wonderful lady called Kelly Chew, I managed to meet up with Nick Vuijicic again during a media session where Nick was sharing with the entire room his life experience and his latest brain child which is a online magazine called "Attitude is Altitude".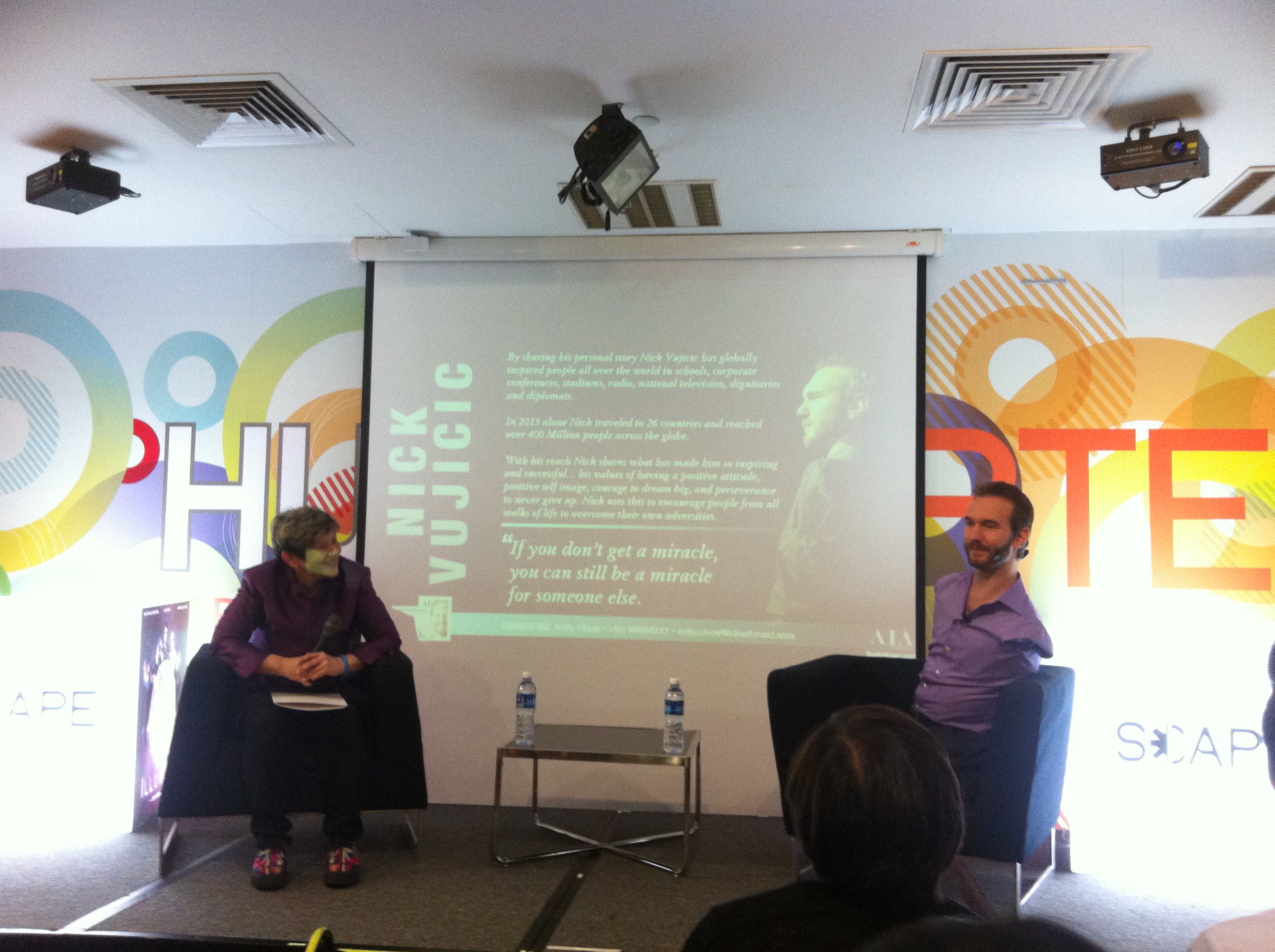 What's IMPORTANT are 3 LIFE TRANSFORMATIONAL TIPS that I have learnt from Nick:
1. It's NOT what you don't have, but what you DO with what you HAVE
In case you are not aware, since Nick's first speaking engagement at age 19, Nick has traveled around the world, sharing his story with millions, sometimes in stadiums filled to capacity, speaking to a range of diverse groups such as students, teachers, young people, business professionals and church congregations of all sizes. Today this dynamic young man has accomplished more than most people achieve in a lifetime. He's an author, musician, actor, and his hobbies include fishing, painting and swimming. You may be wondering how is it possible that he can do things like fishing, painting and swimming without hands and legs? Look at the jaw-dropping photos below:
Nick swims ……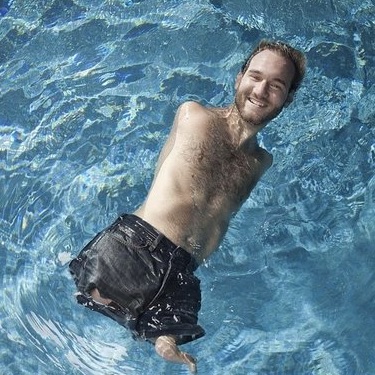 He plays golf ……..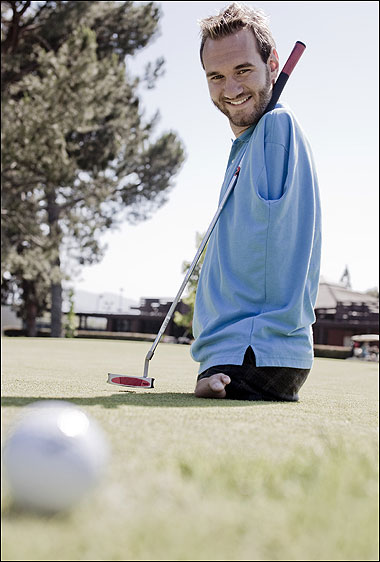 He surfs ……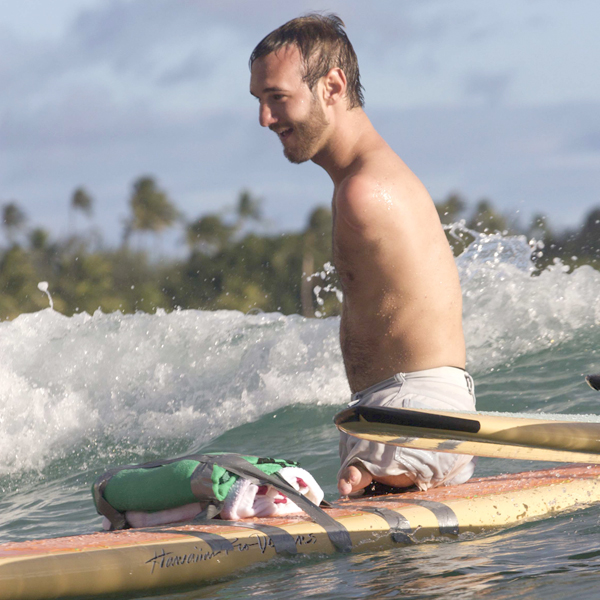 Yes, and he is happily married with a son.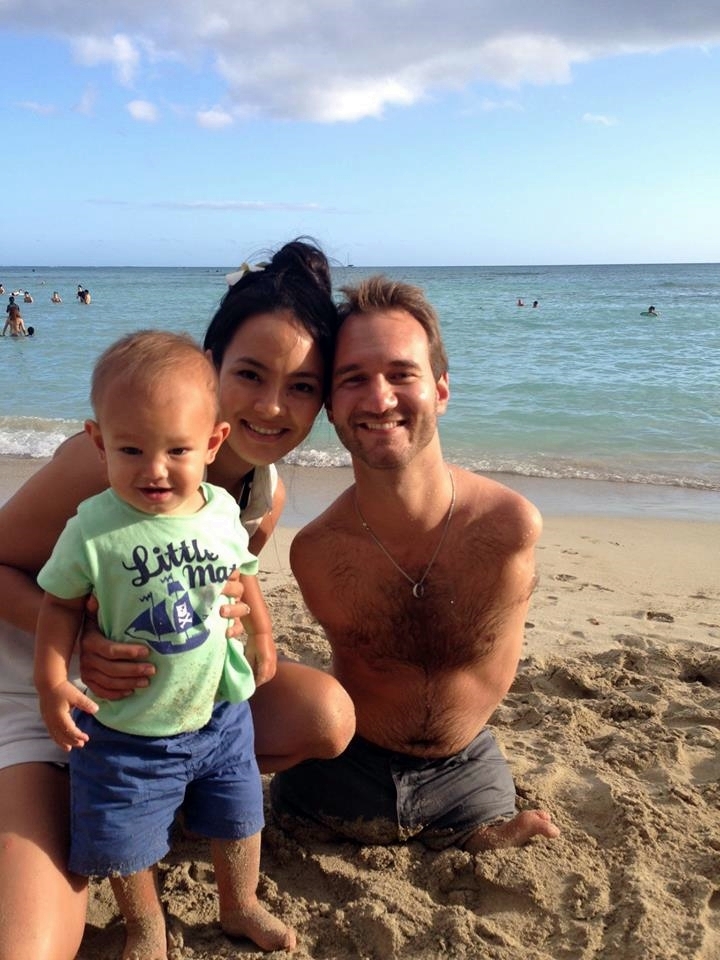 So what are the things you BELIEVE you CAN DO to make a difference in your own life?
2. Attract People by Focusing on Who You Truly Can Become
During the media session, a lady from the local newspaper asked Nick how he can become a good father when he do not have hands, legs and can't even hug his son even he wants to? This question was really very direct but Nick's answer was professional and mind blowing. Guess what he said? Nick mentioned that even though he does not have any arms to hug his son but he will do his utmost best to become a FATHER so great that his son will come and hug him instead. As a father of 2 little girls myself, that did not come across my mind and Nick's way of looking at his relationship between him and his son just changed my perspective of how we may choose to love our children. Check out this photo below. Anything else to say?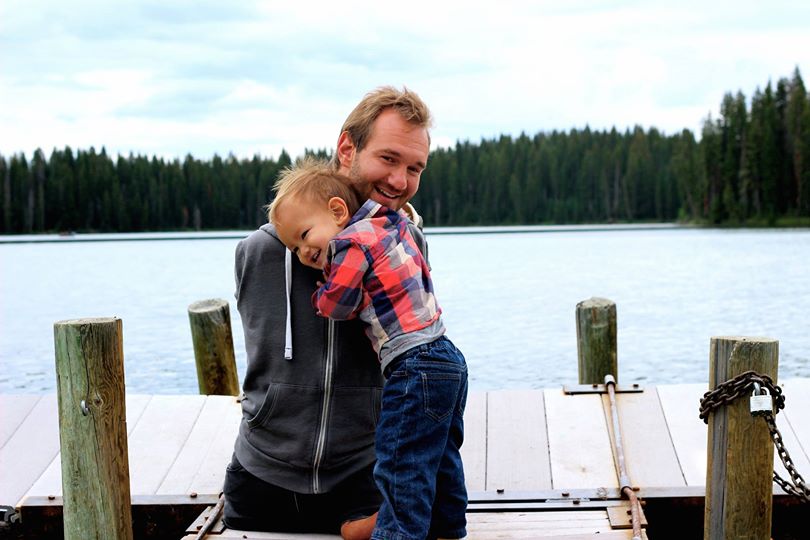 3. Being GRATEFUL. Just being Grateful!
If you look at the 2 cups above, do you think that the cup is half empty or half full? Some of you may think it's half empty while some of you may think that it's half full. There are no right or wrong answers. There are only perspectives. One key thing that I have learnt after surviving my first encounter with cancer in 2010 and my most recent stage 4 cancer just a few weeks ago is that it does not matter whether the glass is half full or half empty. Be grateful that there is a glass and there is something in it. For that, I am grateful to Kelly Chew and Elim Chew who has invited me to the media session to meet Nick Vuijicic and I am glad that I will be having a coffee session sometime next week with Elim Chew (Founder of 77th Street). It's my honour and I am grateful!
Watch a short clip of Nick Vuijicic here (I used my iPhone 4 to shoot, so forgive me for the quality) and please please support his Attitude is Altitude Magazine at www.facebook.com/NickVujicic & www.facebook.com/aiamag:
If you wish to chat with me at my FREE Inspiring NLP Master Class on 22 Dec 2014 (Mon) which will be our LAST class for this year, register for a limited to meet me at www.singapore-nlp.com. We will have a little CHRISTMAS SURPRISE for you!
Cayden Chang
Founder of Mind Kinesis NLP Academy