Hi Friends
Happy NEW Year to all of you and welcome to a Great Monday where all of you move towards your Dreams and Goals again.
Just to share after training more than 15,000 people and conducting hundreds of personal development workshops, a common observation among participants is that most of them are focus on their carreer and wanting to increase their income. However, most wanted to get-rich-quick and not driven to put in EXTRA HARDWORK in addition to the amount of time that they are spending. Even though there are some shortcuts to success such as having a mentor, attending courses, modelling other successful people, etc., all these shortcuts still require addition effort on one's part. That's when having a CLEAR GOAL and keeping yourself in a MOTIVATED and PEAK STATE is important to keep you moving forward.
Do read today's Straits Times (under Life's Section) on Foodcourt King, Mr Pang Lim, how he started his business from being a dishwasher. In addition, pls also read about how a dynamic friend of mine, Ms Rachel Wong, who grew from a teen hairdresser to the BOSS of an engineering firm at http://tinyurl.com/6293×93. Rachel's full story is also featured in my book 'Do you have what it takes to be BOSS?' (see Book Cover Below).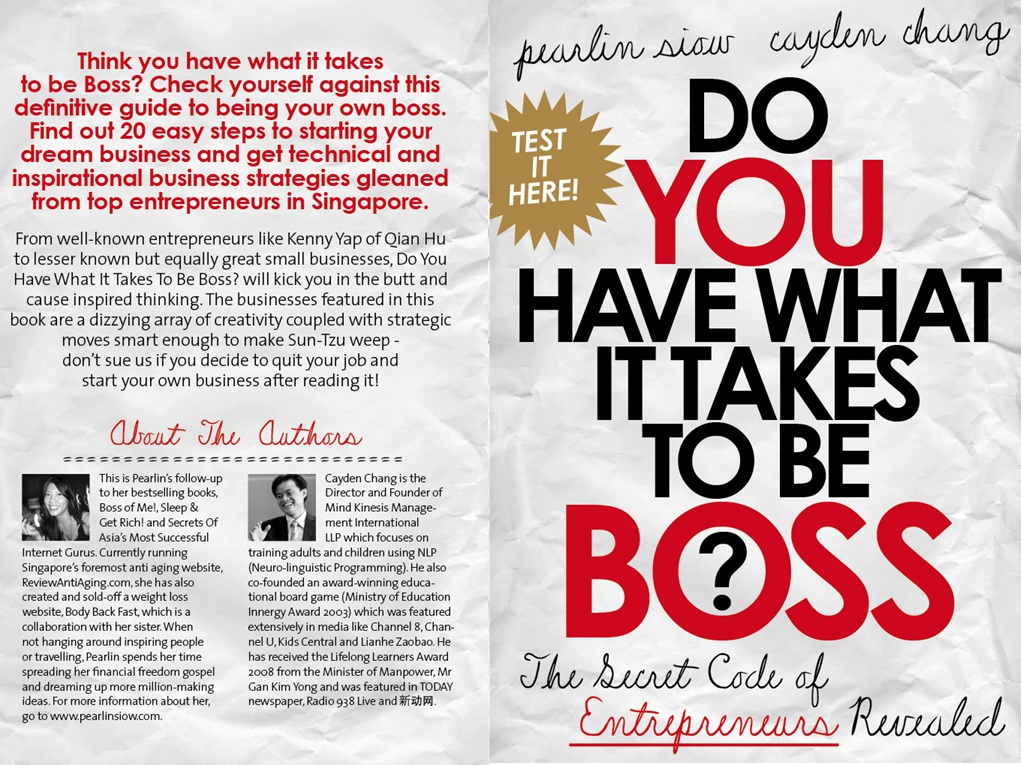 There was a quote that I have read somewhere which goes like this: 'There is NO elevator to SUCESS, you will have to take the STAIRS'.
Talk to me at my workshop this Friday at by attending our Free NLP Workshop NOW!
Check out what they say about my NLP training.
Cayden Chang
Founder & Director, Mind Kinesis Management International
BSc(Hons), MSc
Lifelong Learner Award 2008 Honouree
Co-author, "Do You Have What It Takes To Be BOSS?"